Rich in beneficial compounds, cordyceps has long been used in traditional medical practices for everything from fighting fatigue to boosting libido. We'll review five top cordyceps powder products, counting down to our top choice so that you can make an informed purchase decision.
Why cordyceps supplements?
Are you looking for an amazing source of nutrients to supplement your diet while improving your overall health? Look no further: welcome to the weird and wonderful world of fungi! Mushrooms are an excellent nutrient-dense source that aids a variety of disorders. One standout type of mushroom is cordyceps, an incredible blade-shaped fungus that grows on insect larvae in the wild. Studies have shown cordyceps mushrooms to have anti-inflammatory, antibacterial, and anti-fatigue properties. Cordyceps are incredibly versatile and used to treat a wide range of ailments, including respiratory, renal, liver and cardiovascular diseases, low libido and impotence, as well as hyperlipidemia.
Cordyceps are popularly used in traditional and modern medicine. Traditionally, Chinese medicine uses cordyceps as a "kidney tonic" because it reduces the deterioration of tubule metabolism and aids optimal cell proliferation; in fact, in a clinical trial conducted on 51 patients with chronic renal failure: all of the 28 who received cordyceps supplements showed a significant increase in renal function and cell function compared to the control group.
In a recent study, researchers led by the University of Oxford conducted a phase 1 clinical trial of a cordyceps-infused drug on people with advanced cancer. Researchers found the drug exhibited signs of anti-cancer activity. Another study in mice found that cordyceps presented neuroprotective and anti-inflammatory effects on the brain. In vitro studies also demonstrated cordyceps' potent antioxidant properties, which help prevent cell damage.
You May Also Like:
Polysaccharide Benefits for Optimal Health
Key Ingredients In Mushroom Supplements: Active Agents For Your Health
Due to the new demand for cordyceps in the pharmaceutical and dietary supplement industries, new farming and cultivating processes have been developed for mass production. Where cordyceps usually feed on larvae in the wild, it is now being grown on insect larvae and various cereal grain-based substrates for commercial production.
There is an ongoing debate in the mushroom supplement industry about creating mushroom supplements from mycelium vs. fruiting bodies; studies say that fruiting bodies are higher in beta-glucan content. However, research shows that mycelium and fruit bodies benefit human health, as both mushroom parts contain unique bioactive compounds. This is just one thing to think about when deciding which mushroom supplement is right for you. Read on for our review of five top cordyceps powder products.
5 top products reviewed
5. Nusapure Cordyceps
Nusapure Cordyceps Powder is a decent budget-friendly option. It is vegan, non-GMO, gluten-free, and manufactured in the USA in GMP-compliant facilities. What is great about Nusapure Cordyceps Powder is that each tub contains 200 capsules, each filled with 500mg of cordyceps sinensis, so you can get 1000mg per serving of two capsules daily. Nusapure Cordyceps Powder supplements boost energy, promote immune health, and benefit overall health. In addition, Nusapure claims to use high-quality products with no fillers; notably, Nusapure does not undergo third-party testing.
4. Om Mushrooms Cordyceps Powder
Om Mushrooms Cordyceps Powder is a wonderful mushroom supplement option for someone looking for affordability and accessibility, as it contains 100 grams in each bag at a slightly lower price than similar products on the market. Om Mushrooms' product has some standout points because it is vegan, kosher, keto, and paleo and has no added sugars. Plus, they utilize only USDA Certified Organic and non-GMO mushrooms. The negative is that the cordyceps are grown on myceliated oats, which are not as high quality and have not been tested for beta-glucan content.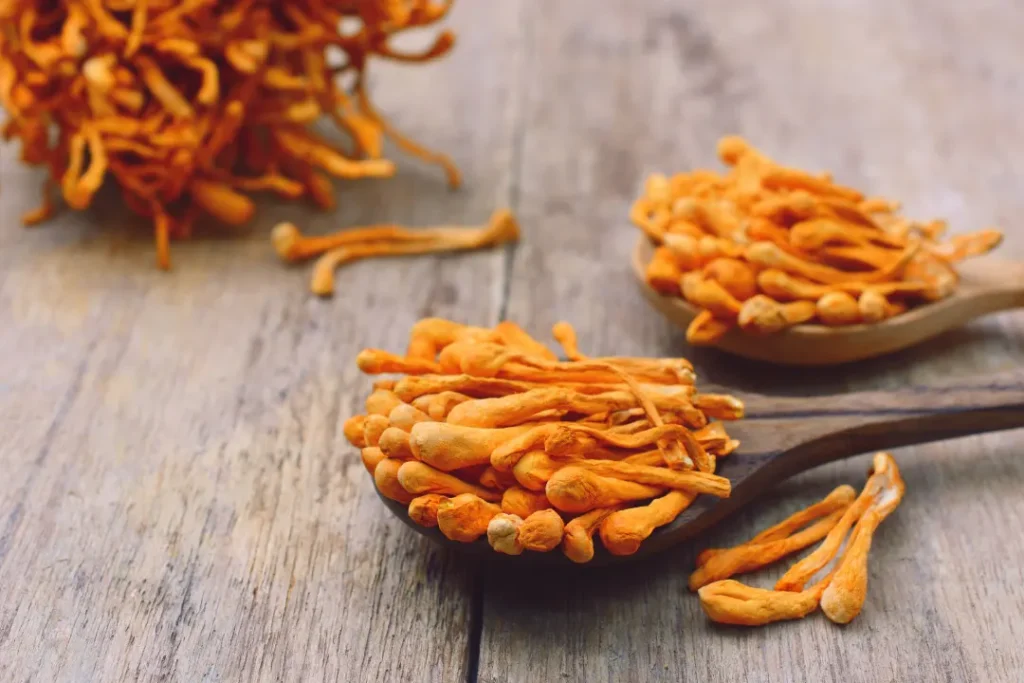 3. Fresh Caps Cordyceps Mushroom Extract
Fresh Caps Cordyceps Mushroom Extract has rave reviews from its clientele. Marketed as an "energy support," Fresh Caps formulates this product with Organic Cordyceps Extract (standardized to contain 32% Beta-Glucan and 0.3% Cordycepin), specifically from the fruiting body of cordyceps militaris. Each tub contains 60 grams of extract, designed to be added to your beverages any time of the day, with or without a meal. Fresh Caps claims this cordyceps powder can help provide a boost of energy, endurance, and performance. Its reviews reflect this, with consumers confirming they can feel the difference. While this company is organic, it does not undergo third-party testing.
2. Host Defense Mushrooms Cordyceps Powder
Host Defense® Mushrooms Cordyceps Powder was created by world-renowned mycologist Paul Stamets, who believes mushroom supplements are vital to a healthy immune response. Backed by extensive research, all of the products at Host Defense® utilize scientifically validated data to ensure the quality and efficacy of its supplements; its mycelium and fruit bodies are grown on its farm in Washington state and are certified organic, non-GMO, vegan, and gluten-free.
Furthermore, all of Paul Stamets' mushroom supplements undergo testing by independent labs that verify identity, purity, composition, and strength. With each tub containing 100 grams, Host Defense's Cordyceps powder supports energy, stamina, and endurance while promoting healthy respiration and kidney function, as well as supporting brain health and a balanced immune response.
1. Real Mushrooms Organic Cordyceps Extract Capsules
At the end of our list is Real Mushrooms Organic Cordyceps Extract Capsules, arguably the premier cordyceps powder on the market due to this mushroom supplements' quality and effectiveness. With over 40 years in the mushroom business, Real Mushrooms is a Canada-based supplement company that has one of the best practices for producing and extracting mushrooms to optimize your health. All Real Mushrooms products are certified organic, gluten-free, non-GMO, vegan, and quality tested by third-party labs that verify the beta-glucans – the most beneficial bioavailable compound in mushrooms – and ensure their purity, safety, and effectiveness, so you get the best product.
What sets Real Mushrooms apart is not the fact that all of their products are certified organic and cultivated sustainably. Real Mushrooms lives up to the 'real' in its name: it uses the entire mushroom, including the fruiting body, instead of only using the mycelium. Real Mushrooms cordyceps powder has amazing reviews, and customers claim it is helping them with their lungs, immune system, heart, endurance, and brain capacity. In addition, Real Mushrooms seeks to break the mold by offering top-quality mushroom supplements made from the nutrient-dense fruiting bodies of mushrooms without grain fillers or carriers. All this makes Real Mushrooms the ideal brand for cordyceps powder.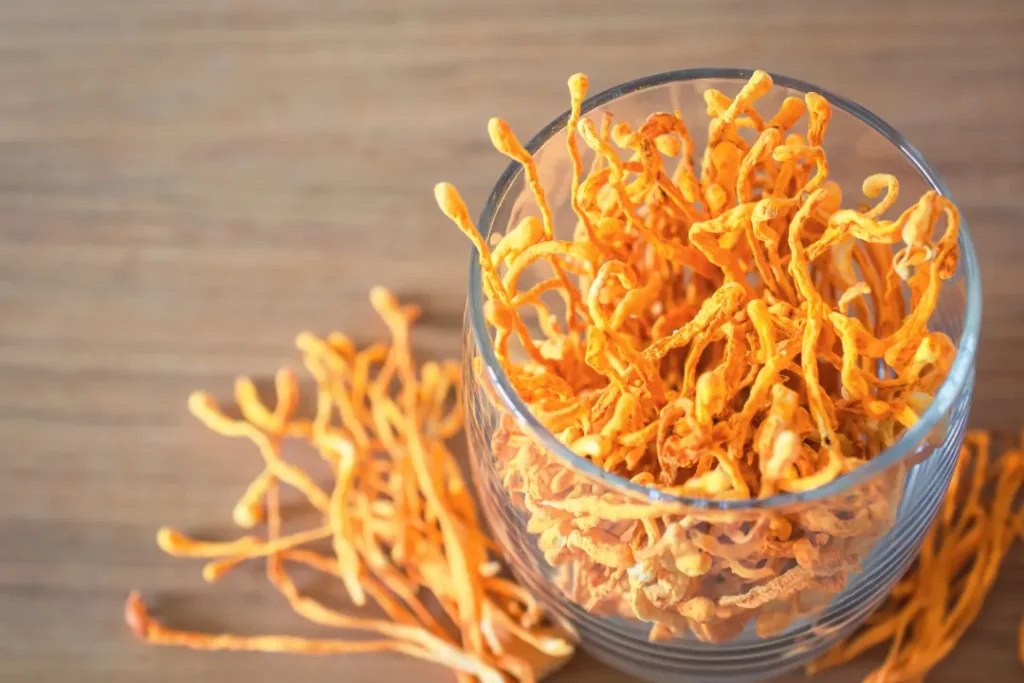 Cordyceps is a good choice
With roots in traditional Chinese medicine and many promising benefits, cordyceps mushrooms make incredible supplements that boost vitality, brain health, and immune response. If you're looking for a convenient way to incorporate a potent source of nutrients into your diet, cordyceps powder can be an excellent option.
Further Reading:
Management of High Altitude Pathophysiology: Cordyceps sp.: The Precious Mushroom for High-Altitude Maladies
Food Chemistry: The molecular recognition of cordycepin arabinoside and analysis of changes on cordycepin and its arabinoside in fruiting body and pupa of Cordyceps militaris
Journal of Functional Foods: Clinical evaluation of the short-term effects of Cordyceps cicadae mycelium in lowering intraocular pressure
Important Note: The information contained in this article is for general informational purposes only, and should not be construed as health or medical advice, nor is it intended to diagnose, prevent, treat, or cure any disease or health condition. Before embarking on any diet, fitness regimen, or program of nutritional supplementation, it is advisable to consult your healthcare professional in order to determine its safety and probable efficacy in terms of your individual state of health.
Regarding Nutritional Supplements Or Other Non-Prescription Health Products: If any nutritional supplements or other non-prescription health products are mentioned in the foregoing article, any claims or statements made about them have not been evaluated by the U.S. Food and Drug Administration, and such nutritional supplements or other health products are not intended to diagnose, treat, cure, or prevent any disease.