In this article, we compare two well-regarded mushroom supplement brands to help you make an informed purchase decision. Read on to learn more about Paul Stamets Mushroom Supplements vs Troop Mushrooms Gummies.
Mushrooms are magical, but if you're looking for magic mushrooms (that is, the ones that contain psilocybin), this may not be the right reading for you. Mushrooms are magical because there are various types that offer a wide range of health benefits, from anti-inflammatory properties to restoring brain function to aiding immune support.
You May Also Like:
Benefits of Adaptogenic Mushrooms
Mushroom Adaptogens For Immune Support And Wellness
Since they're central to all ecosystems, it's hard to imagine what mushrooms can not do! This article compares two esteemed mushroom supplement companies and will help you decide which product is best for you.
Paul Stamets Mushroom Supplements vs Troop Mushrooms Gummies is an original (MushroomMaestro) article.
Comparing Host Defense® Mushrooms™ and Troop Mushrooms
Based near the Olympic Rainforest in Washington state, Host Defense® Mushrooms™ is Paul Stamets mushroom supplementscompany, specializing in mycelium-based supplements to support natural immunity and overall wellness. Its creator, Paul Stamets, is a world-famous mycologist who believes mushroom supplements are vital to a healthy immune response.
Host Defense® utilizes scientifically validated data to ensure the quality and efficacy of their products. Their mushroom mycelium and fruiting bodies are grown on their farm in Washington state and are certified organic, non-GMO, vegan, and gluten-free. All of Paul Stamets mushroom supplements undergo testing by independent labs that verify identity, purity, composition, and strength.
Troop Mushrooms is dedicated to putting the "fun" in fungi. They design their supplements to be taken daily, so that improving your health through mushrooms can be made easy. All of Troop Mushrooms' ingredients are vegan, gluten-free, soy-free, and organic, and the company only uses natural flavors. Furthermore, Troop's mushrooms are cultivated in the US with organic and sustainable farming practices and tested to ensure they are free from toxins, pesticides, and heavy metals.
Additionally, Troop Mushrooms works to reduce their environmental impact. For one, their packaging is crafted from 100% PCR (post-consumer recycled) plastic. To reduce their carbon footprint, all of Troop's products are crafted, batched, bottled, and shipped from Florida. With the goal of supplement transparency in mind, Troop Mushrooms allows consumers to view where their consciously-sourced ingredients come from here.
Troop Mushrooms recognizes that mushrooms are the connective tissue running through all ecosystems, transmitting nutrients through mycelial microscopic fibers; when the power of these mushrooms is harnessed through supplements and added to the diet, human health flourishes. All of their mushrooms are dual extracted, meaning that the mushrooms' chitin, or its rough cell walls, are penetrated for optimal release of all their bioavailable compounds.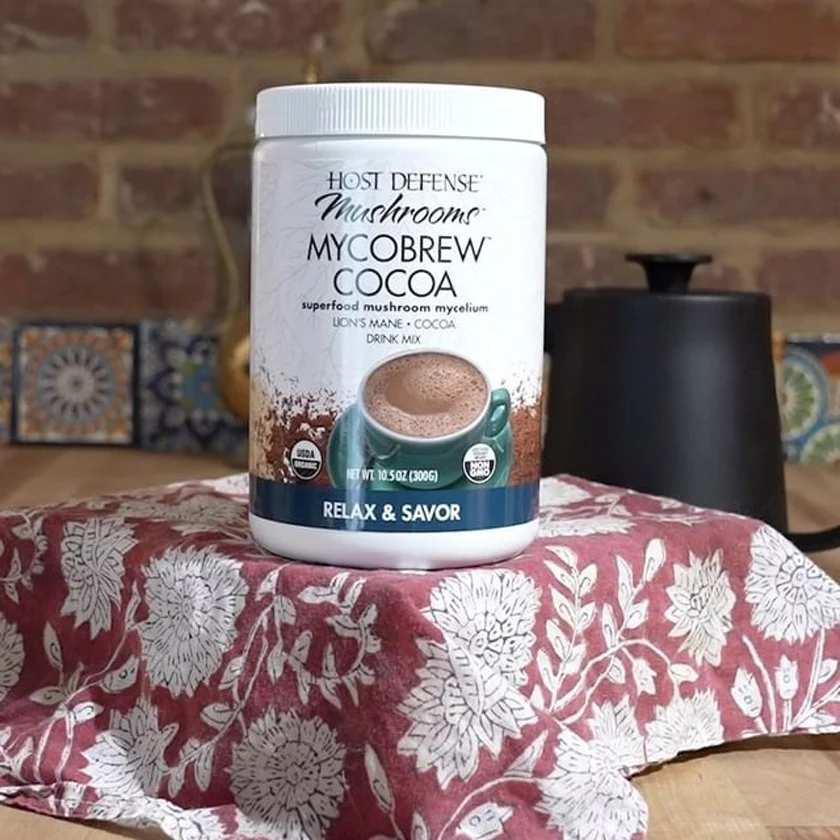 Mycelium vs. fruiting bodies
There are two different ways of deriving mushroom supplements: from fruiting bodies (including the mushroom stalk and cap) or from the mycelium (underground fibers/roots of mushrooms). There is an ongoing debate about which of these methods produces a superior supplement. However, studies have suggested that fruiting bodies are higher in beta-glucans, which contain a majority of the health benefits mushrooms offer.
While Host Defense® argues that mushrooms derived from either of these methods offer benefits to human health, Paul Stamets mushroom supplements are mycelium-based. On the contrary, Troop never uses mycelium in their products, only fruiting bodies.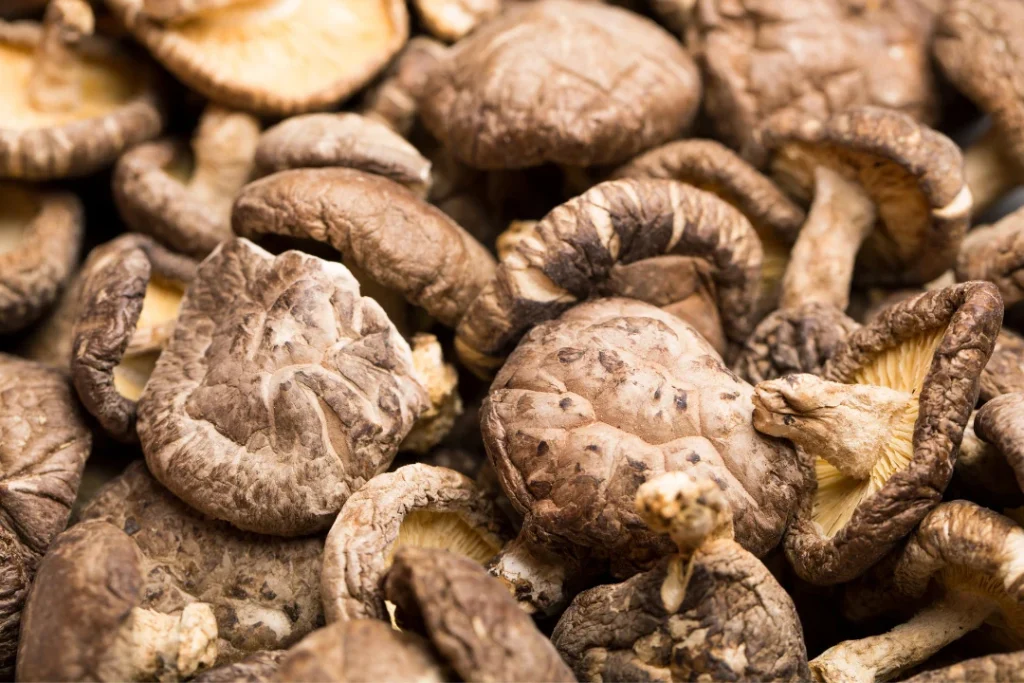 Paul Stamets Mushroom Supplements vs Troop Mushrooms Gummies is the (MushroomMaestro) report.
Products
Lion's mane is a great supplement for those looking to improve brain function and reduce inflammation. Paul Stamets mushroom supplement with Lion's Mane is designed to improve cognition and memory while providing mood support. Host Defense® Lion's Mane capsules can support the nervous system and nerve growth after consistent usage.
Troop Mushrooms' Lion's Mane peach mango flavored gummy is designed to give your brain a boost. This supplement is curated to help you to focus and achieve mental clarity immediately. Furthermore, long-term consumption will help slow neurodegeneration, improve cognitive function, aid neuron growth, enhance memory, and boost overall energy. Over time, this product will also support the nervous system and a healthy inflammatory response.
Reishi mushrooms are powerful antioxidants that boost the immune system. Paul Stamets mushroom supplement with Reishi promotes "longevity support," aiding cardiovascular health, energy, and stamina. It is also designed to improve the body's ability to adapt to stress and support a balanced immune response. Like Paul Stamets mushroom supplements, Troop Mushrooms' Reishi mixed berry gummy promotes immune function but is also designed to calm and de-stress.
A supplement cocktail containing various mushrooms provides the consumer with a daily supplement that will improve many factors of their health all at once. Paul Stamets mushroom supplements Stamets 7 is a daily immune support, helping the body adapt to physical, mental, and environmental stress. It also supports the respiratory, digestive, lymphatic, and nervous systems to restore the body's foundational immunity. Stamets 7 contains Royal Sun Blazei, Cordyceps, Reishi, Lion's Mane, Chaga, and Mesima.
Troop Mushrooms' Super Troop is an amazing mid-day pick-me-up because it restores cellular function, aids mental clarity, and balances the body. Encased in a strawberry passionfruit casing, Super Troop contains an unreal combo of the best Reishi, Chaga, Lion's Mane, Cordyceps, Maitake, and Turkey Tail. Super Troop sets the consumer up for success by enhancing focus and energy, and recalibrating and restoring the body's function.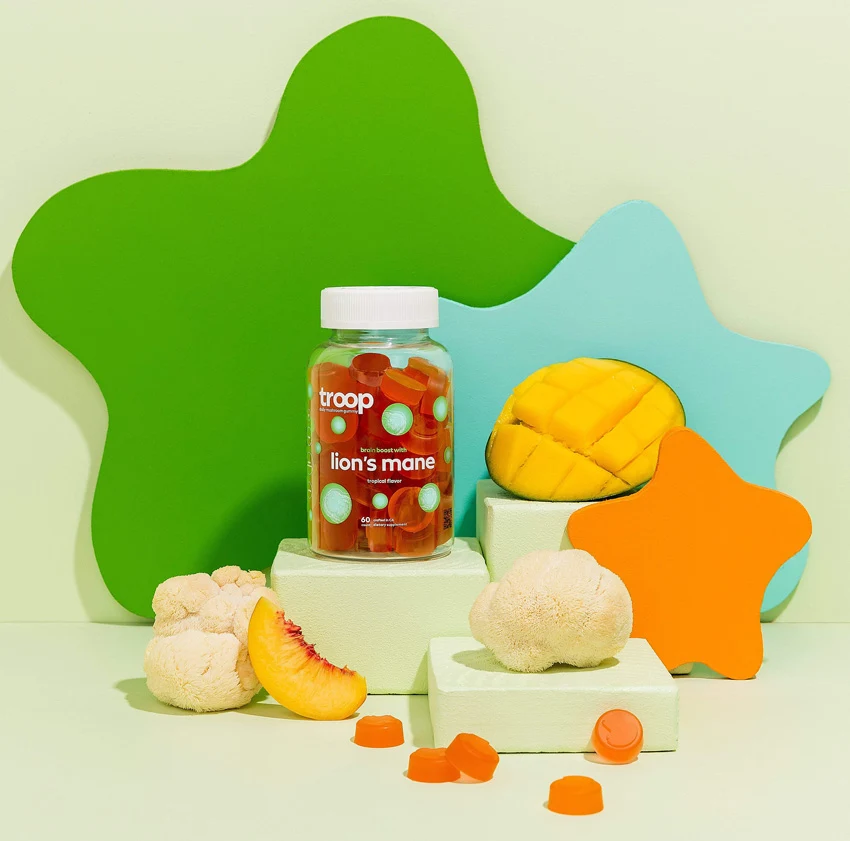 So which is better?
While Paul Stamets mushroom supplements and Troop's mushroom gummies are both great options, the deciding factors between these two brands are the method of production and taste. Troop Mushrooms' gummies are flavorful and made using the more beneficial part of the mushroom, revealing them as the superior option in this debate. If you are looking to experience the "magic" mushrooms can offer, Troop Mushrooms' products are worth investigating.
Further Reading:
Food Bioscience: "Current trends in health-promoting potential and biomaterial applications of edible mushrooms for human wellness"
Food Chemistry: X: "Comparison of chemical property and in vitro digestion behavior of polysaccharides from Auricularia polytricha mycelium and fruit body"
International Journal of Biological Macromolecules: "Comparison of the structures and prebiotic-like effects in vitro of polysaccharides from Coprinus comatus fruit body and mycelium"
Important Note: The information contained in this article (Paul Stamets Mushroom Supplements vs Troop Mushrooms Gummies) is for general informational purposes only, and should not be construed as health or medical advice, nor is it intended to diagnose, prevent, treat, or cure any disease or health condition. Before embarking on any diet, fitness regimen, or program of nutritional supplementation, it is advisable to consult your healthcare professional in order to determine its safety and probable efficacy in terms of your individual state of health.
Regarding Nutritional Supplements Or Other Non-Prescription Health Products: If any nutritional supplements or other non-prescription health products are mentioned in the foregoing article, any claims or statements made about them have not been evaluated by the U.S. Food and Drug Administration, and such nutritional supplements or other health products are not intended to diagnose, treat, cure, or prevent any disease.