We review two wonderfully delicious mushroom-based beverage products and decide which we prefer for the primary purpose of receiving our daily functional mushroom ingredient quota. We examine Ryze Mushroom Coffee and Real Mushrooms' Mushroom Hot Chocolate Mix to make this determination.
You May Also Like:
Enhancing Health & Wellness With Mushrooms
The Secret Life of Mushrooms: How They Can Boost Immunity, Support Your Gut, and Even Fight Cancer
Functional mushrooms have been a part of Eastern medicine for centuries; however, these immune-boosting superfoods are only more recently entering the Western medicinal sphere. As a result, there are now numerous functional mushroom species readily available to consumers.
Of the many species of functional mushrooms, some names are more important than others. Turkey Tail, Reishi, maitake, shiitake, Lion's Mane, and Chaga are some of the more prominent names in medicinal mushrooms. Ryze Mushroom Coffee is made with a special blend of mushrooms, featuring four of the aforementioned species. Real Mushrooms Hot Chocolate Mix is made with their own "Organic 5 Defenders Extract Blend," which contains five of the aforementioned species. We'll compare these two products head-to-head so that you can make an informed purchase decision.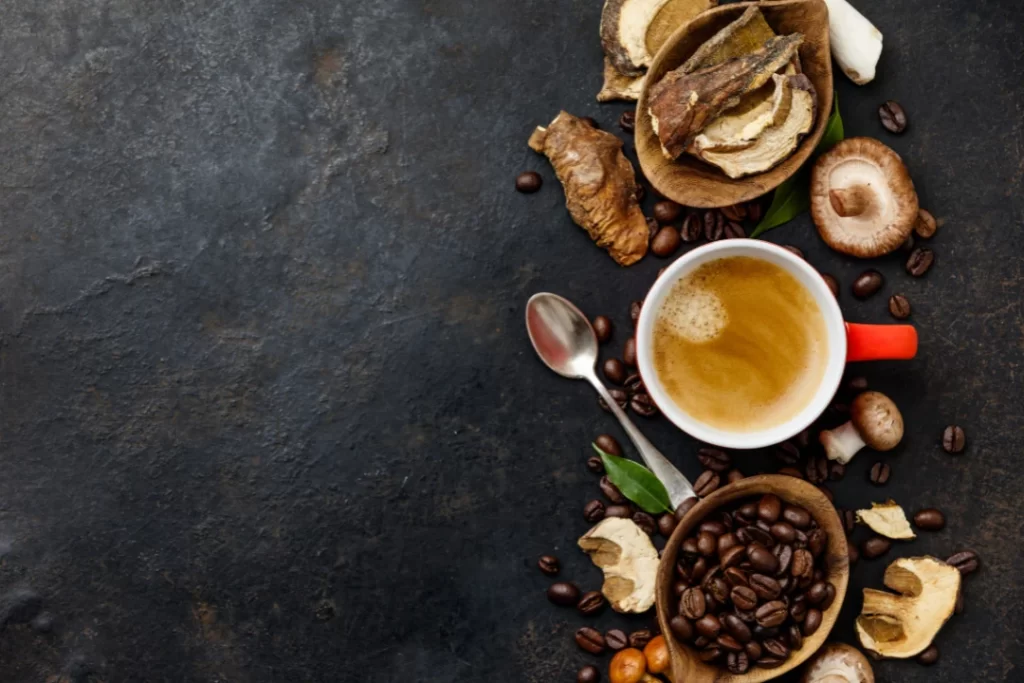 Ryze Mushroom Coffee vs Real Mushrooms Hot Chocolate Mix:
Ingredients
Our comparison between Ryze Mushroom Coffee and Real Mushrooms Hot Chocolate Mix begins at the core, with their ingredients. Ryze Mushroom Coffee proudly dons a list with only three ingredients: Ryze organic mushroom blend (cordyceps, Reishi, King Trumpet, shiitake, Lion's Mane, and Turkey Tail), organic MCT oil, and organic coffee. In comparison, Real Mushrooms Hot Chocolate mix has five ingredients: organic cacao powder, organic coconut sugar, organic vanilla, Organic 5 Defenders extract blend (RealTurkey Tail™, RealReishi™, RealMaitake™, RealShitake™, RealChaga™), and Himalayan salt.
We eat to obtain specific vitamins and minerals for our bodies, and, in general, the fewer ingredients in a product, the better the product is for our health. Abiding by the short ingredient list rule is a great way to start positively tailoring the food you consume, and both products in our comparison follow this rule. While the Real Mushrooms Hot Chocolate Mix has a few more ingredients, hot chocolate is an already sweetened beverage, and some sugar is expected.
In contrast, coffee is tailored to the individual once the beverage has been prepared, so Ryze Mushroom Coffee need not worry about including a sweetening agent. In addition, the Real Mushrooms blend features their trademarked "Real" mushroom species, a process that shows their devotion to providing the purest product. For its purity of ingredients and simple formula, Real Mushrooms emerges as the winner in our ingredients category.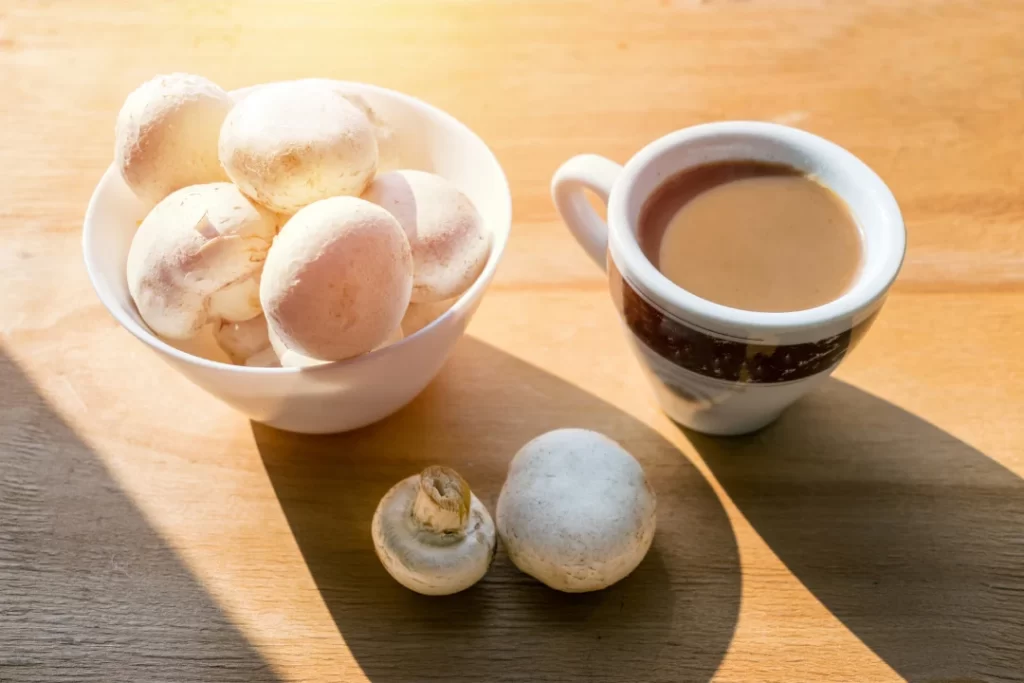 Ryze Mushroom Coffee vs Real Mushrooms Hot Chocolate Mix:
Supplemental benefits
When looking for a daily mushroom supplement, we recommend first identifying the active benefits you hope to receive. The mushroom species we've discussed all provide unique supercharged benefits for your body and immune system. We looked to NuLiv Science's list of functional mushroom benefits for scientific evidence and support.
If you're looking to take a mushroom supplement with healthy digestion boosters, then look for products containing Turkey Tail and maitake mushrooms. Both Ryze Mushroom Coffee and Real Mushrooms Hot Chocolate Mix feature Turkey Tail, but a point goes to Real Mushrooms Hot Chocolate Mix because their blend also includes maitake.
Shiitake mushrooms are an incredibly beneficial superfood, long recognized in Chinese medicine for their essential 9 amino acids. They improve hair and skin strength and appearance. It's a wonderful benefit that both Ryze Mushroom Coffee and Real Mushrooms Hot Chocolate Mix use shiitake mushrooms.
Natural medicine communities praise Reishi mushrooms for the benefits that they offer as adaptogens. Powerful adaptogens promote stress reduction, healthy immune system function, and restful sleep. Reishi mushrooms are present in both Ryze Mushroom Coffee and Real Mushrooms Hot Chocolate Mix.
Chaga mushrooms hold the title of the richest antioxidant mushroom in nature, and this species is often used to target inflammation. Its rich antioxidants can help to strengthen the immune system and, therefore, Chaga is our most highly recommended functional mushroom to look for in supplements. Another point goes to Real Mushrooms Hot Chocolate Mix for their addition of Chaga mushrooms to their extract blend.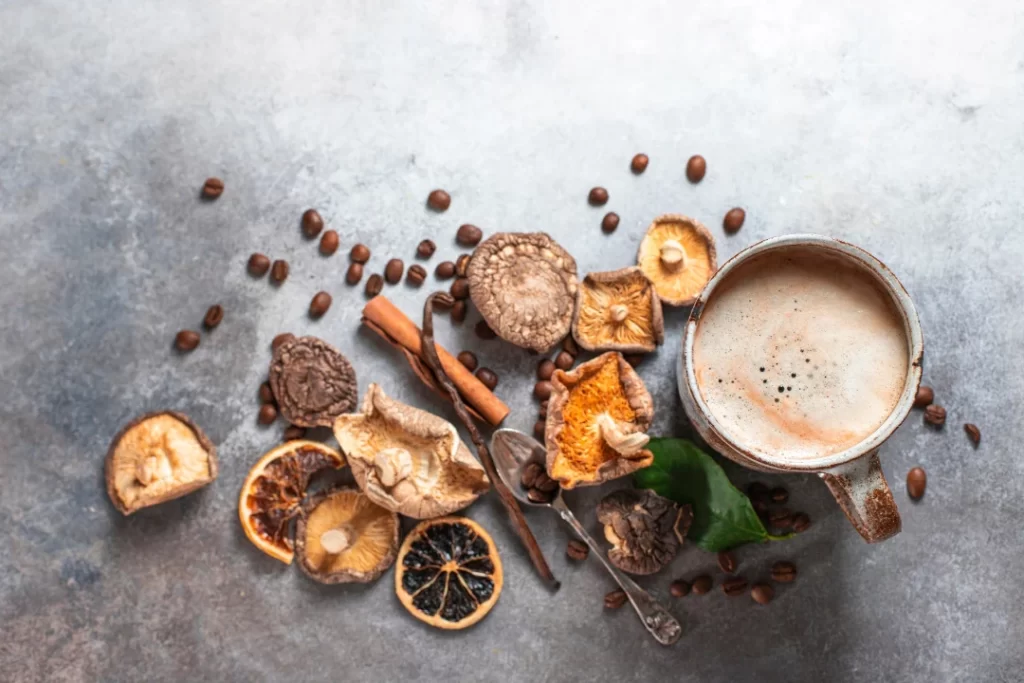 When it comes to the comprehensiveness of its mushroom extract blend, Real Mushrooms emerges as the clear winner in our supplemental benefits category.
Ryze Mushroom Coffee vs Real Mushrooms Hot Chocolate Mix:
Taste
Our examination of product reviews found that the Ryze Mushroom Coffee was reported to taste quite different from regular coffee. One verified buyer reviewed the coffee and crowned it with a single star because it was "disappointing for a normal coffee drinker." This unsatisfied customer noted that the earthy umami taste would take some getting used to. Additionally, numerous reviewers noted how easily they could cover up the earthy flavor of the mushrooms with the creamer and sugar that they normally add to coffee.
One happy reviewer said, "The taste is AMAZING!!! and there was no nausea or jitters." Others did report the feeling of a small energetic boost from Ryze Mushroom Coffee. Still, the minimal caffeine in comparison to a normal cup of joe was consistent throughout reviews. The taste-specific reviews of Ryze Mushroom Coffee ranged across the board, making the taste profile a personal preference. While some enjoyed the more robust qualities of the mushrooms' natural umami flavor, others found the atypical flavor profile to be too distinct from the classic coffee experience.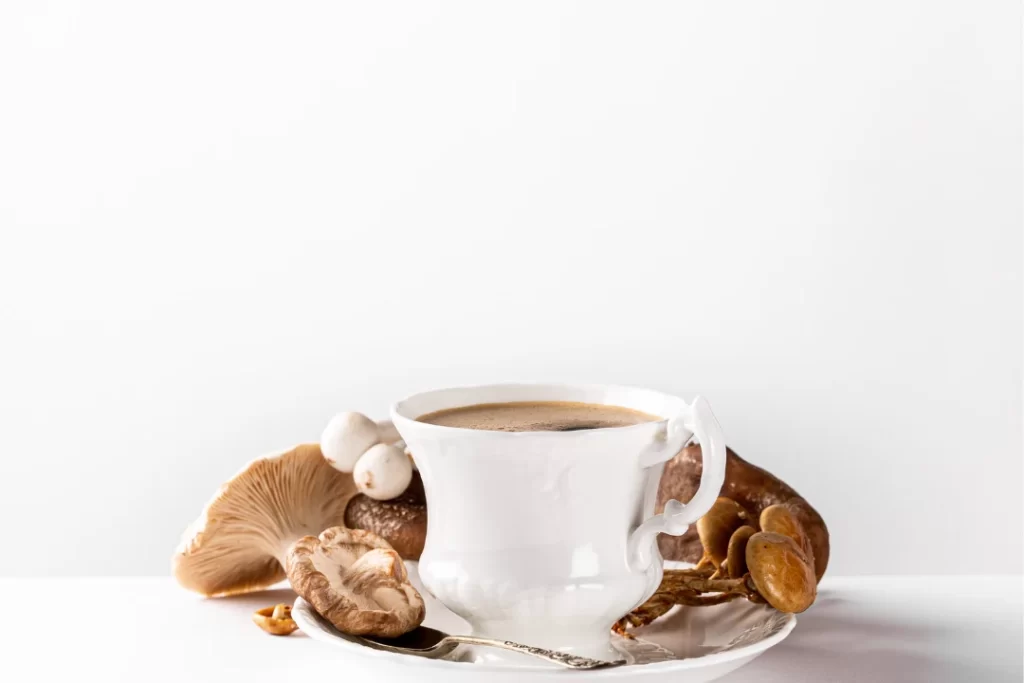 Few reviews spoke negatively about the Real Mushrooms Hot Chocolate Mix, and taste did not seem to be a negative factor for reviewers as a whole. One enthusiastic buyer reviewed Real Mushrooms Hot Chocolate and adored the taste. Another reviewer seemed to rave about it, "A surprisingly luxurious deep taste of cocoa, can't ask for more – it's a treat and therapy." Real Mushrooms Hot Chocolate capitalizes on the reminiscent flavor of hot cocoa, causing the deep umami quality of the product to disappear smoothly behind rich chocolate tones. In the taste category, Real Mushrooms Hot Chocolate Mix wins by a landslide.
Ryze Mushroom Coffee vs Real Mushrooms Hot Chocolate Mix:
The final verdict
In the final analysis of our head-to-head comparison, Real Mushrooms Hot Chocolate Mix is naturally a much tastier product. And aside from being a better-tasting beverage, this product offers richer supplemental benefits. While both products are sound options to give your body a healthy dose of functional mushrooms, Real Mushrooms Hot Chocolate Mix is declared the comparison winner for this stellar combination of delicious taste and nutritional punch. It's a beautiful blend of the functional mushroom superfood benefits that your body needs in the form of the classic chocolatey drink you crave.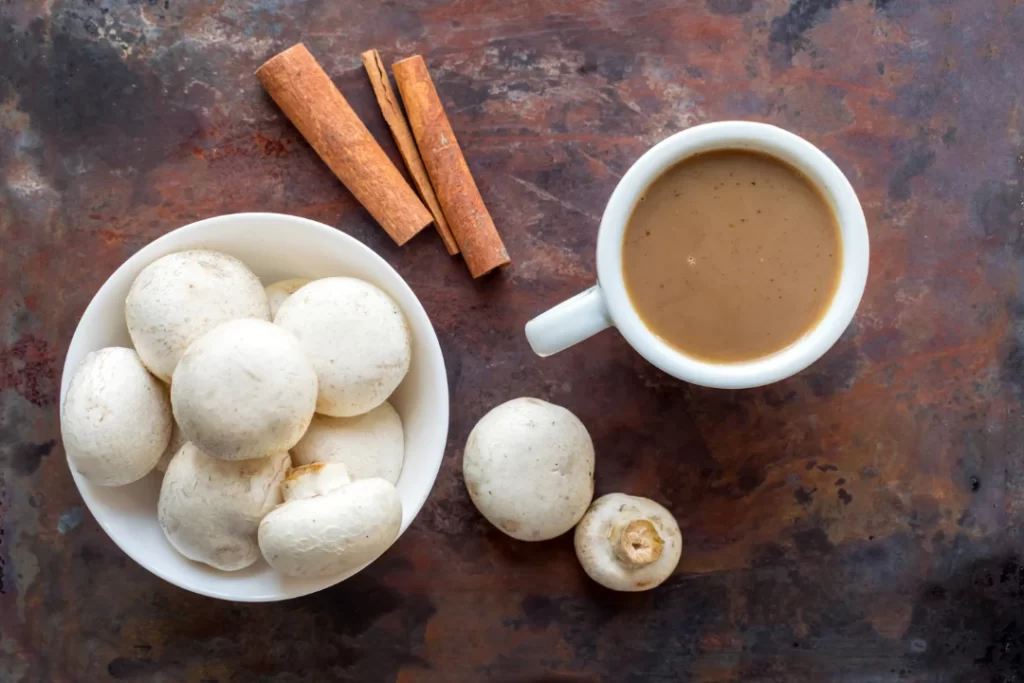 Further Reading:
NuLiv Science: Everything You Need to Know About Functional Mushrooms
Forbes Magazine: A First Timers Guide to Healing with Functional Mushrooms
The Guardian: Mushroom magic: why the latest health fad might be on to something
Important Note: The information contained in this article is for general informational purposes only, and should not be construed as health or medical advice, nor is it intended to diagnose, prevent, treat, or cure any disease or health condition. Before embarking on any diet, fitness regimen, or program of nutritional supplementation, it is advisable to consult your healthcare professional in order to determine its safety and probable efficacy in terms of your individual state of health.